Philippine Interior Designers
Contact Us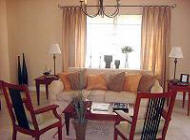 We are an informal group of experienced Filipino interior designers, architects and building contractors based in Parañaque Metro Manila, Philippines. If you need the services of an interior designer or building contractor for your home or business, please email us your requirements, location (of the project) and your contact number/s and we might be able to help you with the interior design of your home or even build you a new home or office building. We however do not carry out house repairs.
P.S. We need to see your home or unit first to be able to make any cost estimate. We however won't charge you for the initial consultation. See a sample of one of our recent work, a condo in Makati: interior design project.




Please email us with the subject line: "Filipino Interior Designer"
And please don't forget to include your contact numbers and the location of the proposed project.
Important Notice: We are based in Parañaque, Metro Manila and for practical reasons, we are limited to servicing only the following areas: Alabang, Las Piñas, Parañaque, Pasay, Manila, Makati, The Fort in Taguig and portions of Laguna and Cavite near Metro Manila.

Arnold A. Alvarez
Coordinator/Webmaster
Postal Address: 205 Chioco St., BF Homes,
Parañaque, Metro Manila
1718 Philippines
Philippine Interior Design Tips Home Page
Living/Dining ▪ Bedrooms/Den▪ Kitchen/Bath ▪ General Tips ▪ Feng Shui ▪ Pictures ▪ Privacy Policy ▪ Web Award