Interior Designing Tips: Bedrooms & Dens
● When interior designing your bedrooms, make sure the rooms are cozy and restful in appearance. Avoid bright colors like orange. Bright colors won't induce you to sleep. Neutral, warm colors, pastels and earth colors are best suited for walls, ceiling and bedroom furniture.

● If you are starting your interiors from scratch, you can start by choosing fabrics first and base the color of you wall from it, then you can select furniture that compliments the color of walls and the fabrics that you are going to use.

● Save on expensive wall decor, go through magazines, art books or even your child's art work at school and have the picture framed. Not only will you save, you will have a unique picture that is not found on commercial home decor stores.

● One third of your life is spent on your bed. Invest in a good mattress, pillows and cotton or linen sheets -they absorb perspiration better and let air "breath".

● Consider an extra cabinet or storage space inside your bedroom or den, they are areas that usually invite clutter. It is important to always have your room neat and clutter free.

● Use warm flooring on bedroom floors like wood and carpet. Don't use ceramic tiles, marble or granite on bedroom floors. It is not pleasant to get out of bed in the morning and step on a cold floor. If a cold flooring material is already installed, put an area rug beside the bed.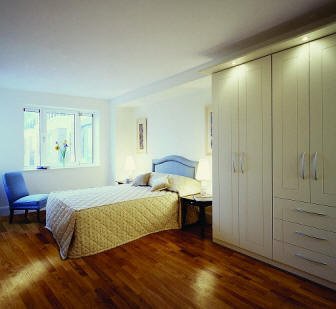 ● If you can, use the same fabric, design and color of the bedcovers as with the curtains. The room will have that "Interior Designed" look.

● If your room is small, use mirrors on the walls. It gives the room an illusion of space (If you are a Feng Shui believer, see the tips on mirrors).

● For bedrooms and specially dens where people tend to smoke, put an exhaust fan on the ceiling or wall farthest from the window. It will suck-in the cold air outside and keep the air inside the room fresh and cool. This can even save you electricity bills by not using your air conditioner during cool months.

● Some of us wants our bedrooms to be dark even late in the day specially when we sleep late. Thus some of us put up very dark curtains. Deep colored curtains against a light colored wall comes very strong. It is better to have your walls a shade darker and the curtain a little lighter to lessen the contrast. An alternative is to use two layered curtains instead one that is very dark.



loading...

● Aside from the typical center light on the middle of the ceiling, use lampshades, pin lights and up lights for mood lighting. These type of lighting gives dark and light patterns of light in the room.

● The bedroom is your private space, among all rooms in your home, your bedroom's look and atmosphere should be the most relaxing and reflective of your personal taste and style.

Philippine Interior Design Home Page ▪ Living/Dining ▪ Kitchen/Bath ▪ General Tips ▪ Feng Shui ▪ Free Pictures